Semi Automatic Sleeve Sealing Machine BSF-6030X
Mesin shrink ialah salah satu mesin kemasan yang banyak digunakan dalam proses pengemasan. Mesin ini memiliki cara kerja dengan memberikan efek menyusut pada plastik, sehingga bisa dibentuk sedemikian rupa mengikuti pola dan bentuk yang diinginkan.
Mesin kemasan ini banyak dimanfaatkan oleh industri besar, seperti minuman, makanan, dan lain-lain. Mesin ini mampu mengemas produk baik dalam satuan maupun dengan jumlah banyak.
Semi Automatic Sleeve Sealing Machine BSF-6030X bergaransi resmi dengan harga termurah dan sparepart terlengkap.Semi Automatic Sleeve Sealing Machine BSF-6030X ini bertenaga daya listrik 1,5 kW. Serta Packing Speed 0-12 pcs/min dan Max. Packing Size (L×W×H) 500×290×380 mm. Juga memiliki bobot mesin 380 kg. Segera hubungi kami untuk jenis & tipe mesin yang anda cari.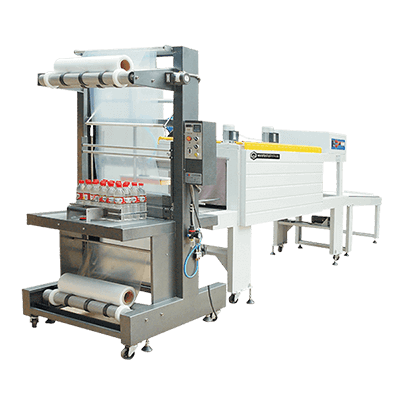 Description:
BSF-6030X semiautomatic sleeve sealing machine is a type of economic one among BSF series, simple operation, push the products manually or pneumatically, sealing the film and the products enter the shrink tunnel automatically, and used PE film to pack products.
Features:
1. BSF-6030X adopts the imported air-cylinder, assure stable pushing and sealing.
2. Adopts specially designed sealing cutter, results in perfect sealing line, avoid the film sticking the cutter.
3. The covered cylinder setting enhance the convenience for the operator; with rear pressing device assure even light product without any shifting.
4. The front frame is adjustable according to different product sizes.
Application:
1. BSF-6030X semiautomatic sleeve sealing machine used for packing beverage, beer and mineral water etc with or without a tray; also suitable for shrink wrapping products such as electric appliance, auto spares, furniture and floor board etc.
2. It's suitable for all kinds of shrink films such as PVC, POF, PP , PE etc